Increased functionality with light control app
The SCANGRIP APP provides easy remotely control of SCANGRIP work lights with built-in BLUETOOTH function. Upgraded with a group function, you can now control multiple groups of up to four lamps.

29.04.2020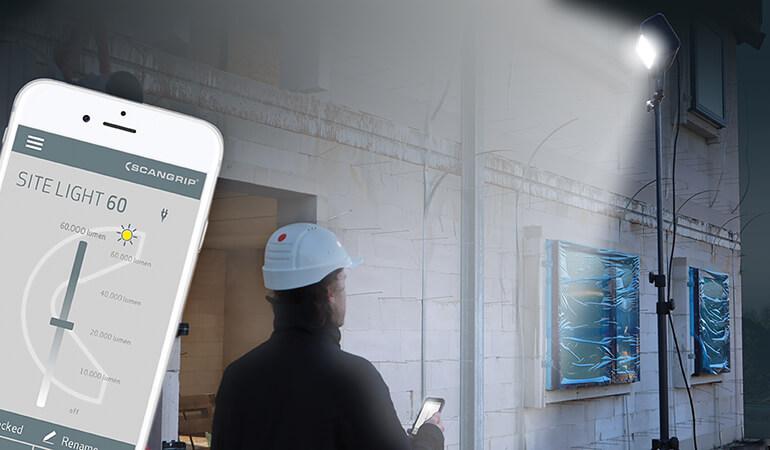 We are continuously taking advantage of multiple technologies to improve the functionality and user-friendliness of our lighting solutions.
The SCANGRIP APP enables you to turn on/off your work light and adjust the light in different levels remotely through your mobile device. To provide even more flexibility, the APP has been upgraded with a group function that enables you to control different groups of up to four lamps.
APP provides new advantages at the construction site
Based on the newest state-of-the-art LED technology, the SITE LIGHTs provide an extremely high light output and a wide 120° beam angle, ensuring super bright illumination of a large work area.
By using the BLUETOOTH light control app, construction workers now have more flexibility than ever to adjust the light output throughout the workday. The group function is especially useful if construction workers want to illuminate certain work areas or are working on different projects at the same construction site and do not want to carry the work light everywhere, they go.
For residents living in the area where construction is taking place, the bright lighting at the construction site can lead to frustration and discomfort. It is therefore a great advantage that construction workers can turn off the work lights or adjust the light intensity to meet the minimum lighting requirements when leaving the construction site.
When the work lights are mounted on high masts, the dimmer function also reduces the power consumption on an everyday basis as the workers only use the amount of light necessary to do the job. This is especially relevant when talking about sustainable construction and how entrepreneurs can adopt new work processes, material and technologies that are more resource-efficient and environmentally friendly in the construction process.