Hand-held UV-GUN for extremely fast curing now in stock
We are proud to introduce a new addition to our specialized range of LED solutions for UV curing. UV-GUN provides a fast and high-efficient auto repair process for an extremely attractive price.

01.07.2020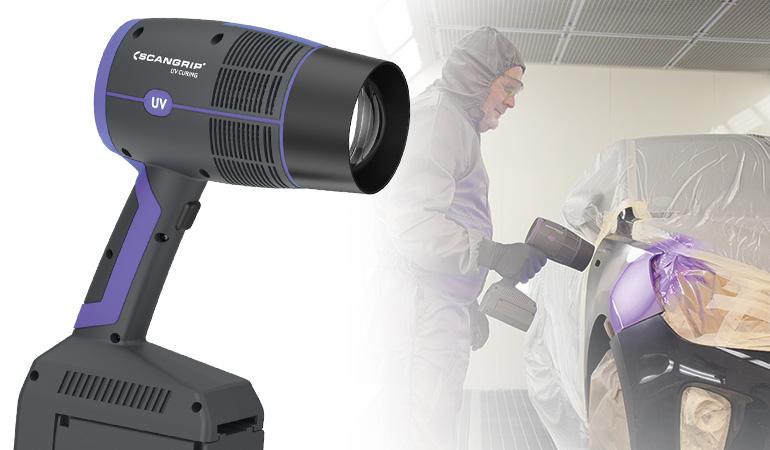 UV-GUN is an extremely powerful LED work light for very fast and highly efficient UV curing of large paint repair areas. It provides long operation time and is rechargeable with exchangeable battery. Featuring high-quality components and active cooling, UV-GUN has a long lifetime and keeps a high performance level throughout the daily operations.
Utilizing UV LED curing technology together with UV primers and UV body fillers allows auto body and paint shops to work faster and more efficiently as the curing time between each operation is reduced significantly compared to auto repair processes using conventional two-component products.
Even smaller workshops can benefit from using the UV-GUN from SCANGRIP for UV curing, as the price is very attractive compared to other solutions on the market.
UV-GUN is also suitable for urgent tasks and makes it possible to repair several cars per day. A user-friendly battery capacity indicator keeps you informed about the remaining battery level throughout the working day.
The hand-held design makes it incredibly mobile and very practical in the everyday life. At the same time, it is extremely sturdy and designed to withstand even the most demanding workshop environment.
Download Specialized LED Work Lights for UV Curing 2020 brochure (PDF)